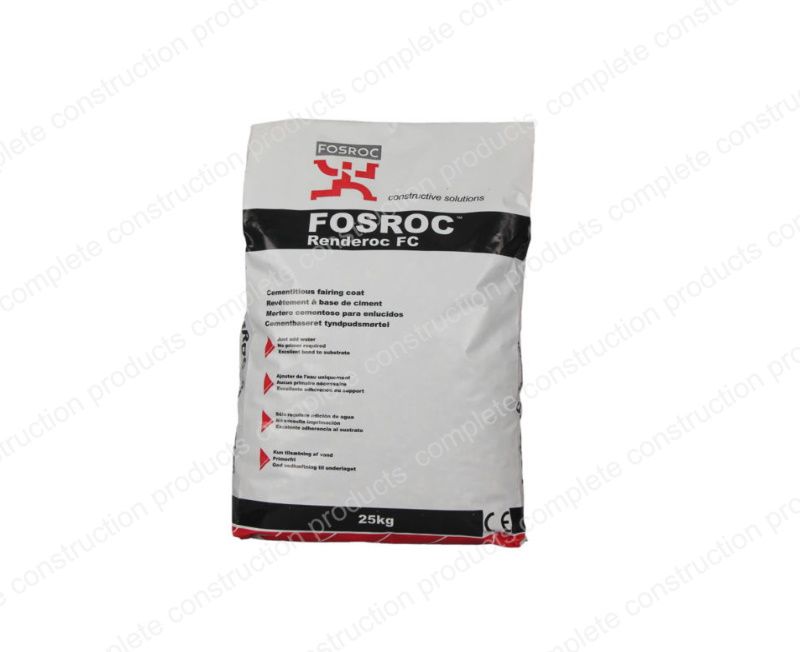 Fosroc Renderoc FC - 25KG
SKU: 317Category: Thin Section Repair Brand: Fosroc
Fosroc Renderoc FC is a cementitious fairing coat that can be used on vertical and overhead surfaces. It is designed to fill holes up to 3mm deep and ...
Read full description
This Variant Includes
This item is in these bundles
Fosroc
Renderoc FC is a cementitious fairing coat that can be used on vertical and overhead surfaces. It is designed to fill holes up to 3mm deep and to infill honeycombing in concrete.
Fosroc Renderoc FC uses
The uses of Renderoc FC are:
Covers minor imperfections in masonry and concrete surfaces
Use prior to applying decorative or protective coatings
Fosroc Renderoc FC benefits
There are many benefits that using Renderoc FC can give your construction project when working with concrete. Here are some below:
Easily mixed with clean water - Pre-blended to overcome site-batched variations - only the addition of water is required
Resistant to permeation by water, carbon dioxide and chlorides
Forms strong bond to concrete
Fast application
Renderoc FC is made from one component
No chloride admixtures
Renderoc FC is RCS (Respirable Crystalline Silica) Hazard Free
Fosroc Renderoc FC Size
: 25kg
Download Fosroc Renderoc FC Technical Datasheet (PDF)
If ordered before 1PM guaranteed next working day delivery to UK mainland
More from the Fosroc Renderoc series
Take a look at the rest of the Fosroc Renderoc Range:
Specifications
Specifications
Delivery and Return
Charges start from £6.90 inc vat on small, lightweight orders and £22.50 inc vat on heavier or difficult to transport items.
All small item orders with a value of £100.00 inc vat will be carriage paid.
All large item orders with a value of £200.00 inc vat will be carriage paid.
*small or large classification of items are determined by weight and dimension of product*
Please note that your order may need to be split into separate packages if over 30KG.
All of the above is based on UK Mainland deliveries, further charges may be incurred if the delivery address is outside of this.
We are also currently unable to deliver outside of the UK on our regular carrier so if you require delivery outside the UK please call or email the details to the office as we reserve the right to refuse service or refund orders based on this.
Guarantee next day delivery.
Some of our products have a note that states – if ordered before 1pm and being delivered to UK mainland on a next day basis.
Please note that given the current circumstances alot of carrier companies are struggling to keep up with demand and although we do book these deliveries as next day services, the carriers cannot always fulfil these and an extra day may be required.
A high percentage of our advertised goods are stock items but be aware that if you are taking very large quantities of stock that we may not be able to fill your order fully on first delivery. Please call the office to check to not be disappointed.
We are also an active trade counter and part of a larger network of companies so stock can be taken at any time but we will always aim to deliver your goods as soon as possible.
Also if ordered along side goods that we cannot guarantee next day delivery on, these will be delivered based on the schedule of the other item.
Signature required on delivery.
The carrier we currently use requires a signature for all deliveries as a proof of delivery. If you cannot guarantee someone will be home to receive this please leave delivery instructions for a safe place or neighbour to leave your goods with. Due to covid and new contactless deliveries, our carriers will not require a signature but will take down the recipients name as POD.
If no one is available to take the delivery, the courier will leave details at the address to rearrange delivery or may leave with a neighbour. Note we may need to make an additional handling charge for the return and re-delivery if a package is unable to be delivered multiple times due to no one being home to receive this. Due to covid our carriers are restricting the number of re-delivery attempts.
After three attempted deliveries our carrier will return the goods to ourselves and in this worst case situation, we may cancel the order and refund your money, excluding any additional charge for the return and re-deliveries.
Materials delivered from our own stock.
Normally 1 – 2 days (this can sometimes be longer if we are waiting for manufacturers' stock to arrive into ours).
If the order is placed before 1:00pm and all of the items are in stock, then we will endeavour to dispatch your order same day for delivery the following day.
This still applies for deliveries out of our local area but please note that we use independent carriers so be aware that there may be external factors which we cannot control (e.g Far out postcodes or local traffic situations)
Materials delivered direct from the manufacturer.
There may be some occasions when it is more efficient or cost effective to have the materials shipped direct from our suppliers to the customer.
We will place the order immediately upon receipt of your order but this can sometimes take a few working days depending on the manufacturers production schedule or carrier used.
We will always endeavour to get the goods to the customer at the earliest possible date but if these are urgently required, please speak to us to check.
Please note that many manufacturers will offer a next day delivery service at an increased delivery cost and also a cut of time for this order to be placed (usually around 11am / 12pm)
Please call us on 08454 530 017 between 8am and 5pm Monday – Friday or email us on [email protected] for any delivery queries, or urgent requirements.
Please read our full terms and conditions with regard to full details on deliveries.
Renderoc FC is a single component polymer-modified cementitious coating used for concrete structures to fill holes up to 3mm deep and to infill honeycombing in concrete. It is designed to be applied in thin layers, so produces a fair-faced appearance to concrete or masonry surfaces to prepare them for a decoratvie or protective coating.
*For advice on specific uses, please contact our helpful team.
You can apply Renderoc FC using a steel trowel. It should be applied with the minimum of working and be allowed to partly set before finally trowelling to a smooth finish.
Yes, it can be applied to the surface of concrete both vertical or overhead applications that are located in interior or exterior environments.
*For advice on specific uses, please contact our helpful team.
A 25kg bag will yield approximately 15 litres with a 5m2 coverage when applied at 3mm thickness.
This product is designed for use on a wide range of concrete surfaces, including walls, floors, and ceilings. It can be used to repair and reinstate damaged or deteriorated concrete elements such as columns, beams, and slabs.
Immediately after use, ensure Renderoc FC is immediately removed from any tools and equipment using clean water. Any cured material will require mechanical removal.
Curing isn't usually required for this product unless there are strong drying conditions. The setting time is 50 minutes for the initial set, with a final set taking just 70 minites in total. This is achieved at a mixing ratio of 0.28 and a temperature of 20°C.
Apply Renderoc FC using a thickness of no more than 3mm.
For best results, ensure the product is kept in a dry store in the original bags unopened at 25°C. This will ensure the maximum shelf life of 12 months is acheived.
You should ensure you use a steel trowel when applying this product. If an uoltra-smooth finish is required, then a small amount of water may be flicked on to the surface of the Renderoc FC with a paint brush prior to final trowelling.
To prepare the surface adequately, you must clean the surface of any contaminants such as oil, grease, dust or corrosion deposits. Roughen the surface to remove any laitance and expose the fine aggregate by light scabbling or grit-blasting. Oil or grease should be remvoed through steam cleaning or detergent scrubbing. Carry out a pull-off test once you have carried out the required cleaning.