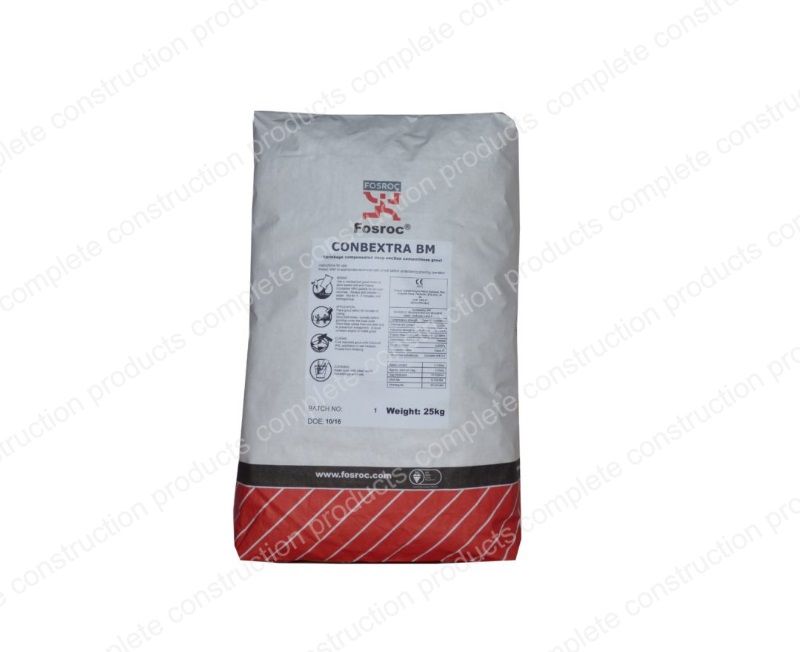 Fosroc Conbextra BM - 25KG
SKU: 2528Category: Special Application Grout Brand: Fosroc
Fosroc Conbextra BM is a high-strength, non-shrink bedding mortar. It supports the structural bedding of a range of surfaces, including brick, cobbles...
Read full description
This Variant Includes
This item is in these bundles
Fosroc
Conbextra BM is a high-strength, non-shrink bedding mortar. It supports the structural bedding of a range of surfaces, including brick, cobblestone and masonry.
How to use Fosroc Conbextra BM:
Simply mix the dry powder with clean water to use
Fosroc Conbextra BM benefits:
Capable of a smooth finish
No priming required
Only water addition required
Pre-blended for ease
Fosroc Conbextra BM Size
: 25KG Bag
Download Fosroc Conbextra BM technical data sheet (PDF)
If ordered before 1PM guaranteed next working day delivery to UK mainland
More from the Fosroc Conbextra Range
Take a look at the full Fosroc Conbextra range:

Specifications
Specifications
Delivery and Return
Charges start from £6.90 inc vat on small, lightweight orders and £22.50 inc vat on heavier or difficult to transport items.
All small item orders with a value of £100.00 inc vat will be carriage paid.
All large item orders with a value of £200.00 inc vat will be carriage paid.
*small or large classification of items are determined by weight and dimension of product*
Please note that your order may need to be split into separate packages if over 30KG.
All of the above is based on UK Mainland deliveries, further charges may be incurred if the delivery address is outside of this.
We are also currently unable to deliver outside of the UK on our regular carrier so if you require delivery outside the UK please call or email the details to the office as we reserve the right to refuse service or refund orders based on this.
Guarantee next day delivery.
Some of our products have a note that states – if ordered before 1pm and being delivered to UK mainland on a next day basis.
Please note that given the current circumstances alot of carrier companies are struggling to keep up with demand and although we do book these deliveries as next day services, the carriers cannot always fulfil these and an extra day may be required.
A high percentage of our advertised goods are stock items but be aware that if you are taking very large quantities of stock that we may not be able to fill your order fully on first delivery. Please call the office to check to not be disappointed.
We are also an active trade counter and part of a larger network of companies so stock can be taken at any time but we will always aim to deliver your goods as soon as possible.
Also if ordered along side goods that we cannot guarantee next day delivery on, these will be delivered based on the schedule of the other item.
Signature required on delivery.
The carrier we currently use requires a signature for all deliveries as a proof of delivery. If you cannot guarantee someone will be home to receive this please leave delivery instructions for a safe place or neighbour to leave your goods with. Due to covid and new contactless deliveries, our carriers will not require a signature but will take down the recipients name as POD.
If no one is available to take the delivery, the courier will leave details at the address to rearrange delivery or may leave with a neighbour. Note we may need to make an additional handling charge for the return and re-delivery if a package is unable to be delivered multiple times due to no one being home to receive this. Due to covid our carriers are restricting the number of re-delivery attempts.
After three attempted deliveries our carrier will return the goods to ourselves and in this worst case situation, we may cancel the order and refund your money, excluding any additional charge for the return and re-deliveries.
Materials delivered from our own stock.
Normally 1 – 2 days (this can sometimes be longer if we are waiting for manufacturers' stock to arrive into ours).
If the order is placed before 1:00pm and all of the items are in stock, then we will endeavour to dispatch your order same day for delivery the following day.
This still applies for deliveries out of our local area but please note that we use independent carriers so be aware that there may be external factors which we cannot control (e.g Far out postcodes or local traffic situations)
Materials delivered direct from the manufacturer.
There may be some occasions when it is more efficient or cost effective to have the materials shipped direct from our suppliers to the customer.
We will place the order immediately upon receipt of your order but this can sometimes take a few working days depending on the manufacturers production schedule or carrier used.
We will always endeavour to get the goods to the customer at the earliest possible date but if these are urgently required, please speak to us to check.
Please note that many manufacturers will offer a next day delivery service at an increased delivery cost and also a cut of time for this order to be placed (usually around 11am / 12pm)
Please call us on 08454 530 017 between 8am and 5pm Monday – Friday or email us on [email protected] for any delivery queries, or urgent requirements.
Please read our full terms and conditions with regard to full details on deliveries.
Conbextra is a construction grout manufactured by Fosroc. It's used to fill gaps between concrete sections or to anchor bolts and bars in concrete structures, such as bridges, buildings, dams where durable anchoring is needed.
*For advice on specific uses, please contact our helpful team.
It is recommended that the substrate is free from oil, paint and other contaminants that could prevent good adhesion. For maximum adhesion, remove by grit blast or grinding loose friable substrates. Pre-soak substrate with water ensuring there is no free water before bedding in. Ensure the bedding mortar is thoroughly mixed. For hand applications, use a forced action mixer. For a single bag the product can be mixed in a drum using a Renderoc Mixing Paddle (MR4) and a slow speed (400-500 rpm) heavy duty drill. Part bags can be mixed but careful measurement of the mixing water is crucial. In all applications, the powder must be added to the water at the same time as mixing (3.0-3.25 litres of clean drinking water for each 25kg bag of powder).
Unopened bags should be stored in cool dry internal conditions
Conbextra BM is used in the structural bedding in of precast modular concrete units. It should be applied by trowel within 20 minutes of mixing.
Conbextra BM should not be used when the temperature is below 5°C. If the air or contact surface temperatures are 5°C or below on a falling thermometer, warm water (30°C to 40°C) is recommended to accelerate strength development. It should not be exposed to moving water during application, and exposure to rainfall prior to final set could result in surface scour. The substrate should also be free from ice. When winter working, normal precautions should be taken to protect the mortar from freezing in the first 48 hours after placing. At temperatures above 35°C, the mixed material should be stored in the shade.
Yes, Conbextra BM can be used with other products such as these. When used with reinforcement bars, it created a strong and durable bond between the bar and surrounding concrete. It can also be used with surface coatings like epoxy or polyurethane coatings, providing the surface is clean from any contaminants to ensure a proper bond.
*For advice on specific uses, please contact our helpful team.
Conbextra BM is not suitable for use in damp or wet conditions. The product should not be exposed to moving water, as heavy rainfall prior to final set could result in surface scour.
Conbextra BM has a shelf life of 12 months if kept in a dry store in sealed bags. However, if stored in high temperature and high humidity conditions, the shelf life could be reduced to less than 6 months.
Wear PPE, including gloves, safety glasses, and a dust mask to prevent skin irritation, serious eye damage, and respiratory issues. Conbextra BM should only be used outdoors or in a well-ventilated area.